TrueBrands
Regular price
Sale price
$37.00
Unit price
per
Sale
Sold out
30 Day No-hassle Return Policy

Free USA Shipping $244.99+
Why we recommend it:  A port tasting was my first real gotcha moment with fine wine.  It was the moment I first thoroughly appreciated the difference between an average bottle and a great bottle.  So, if there's something that adds to the enjoyment of port, especially since there are few such things, I want it.
Douro Port Sippers:  Whether vintage or tawny, ruby or white, fine port spends years aging to perfection before it ever reaches your glass. Once there, enjoy it to the fullest with our set of four Douro Port Sippers, each incorporating a straw feature that draws from the bottom of the glass and minimizes oxidation as you sit back and savor.
Set of 4.
Holds 3 oz.  Just the right size for the purpose - which is fairly small.
Made of glass.
Hand wash recommended.
Great housewarming or wedding gift!
If this should happen to you: 
If you or your port-sipping companions begin to wonder why the liquid in the straw is higher than the liquid in the bowl, here's the explanation one of my port-sipping buddies came up with. ...Proving once again that the fermented grape brings out the best in people.
View full details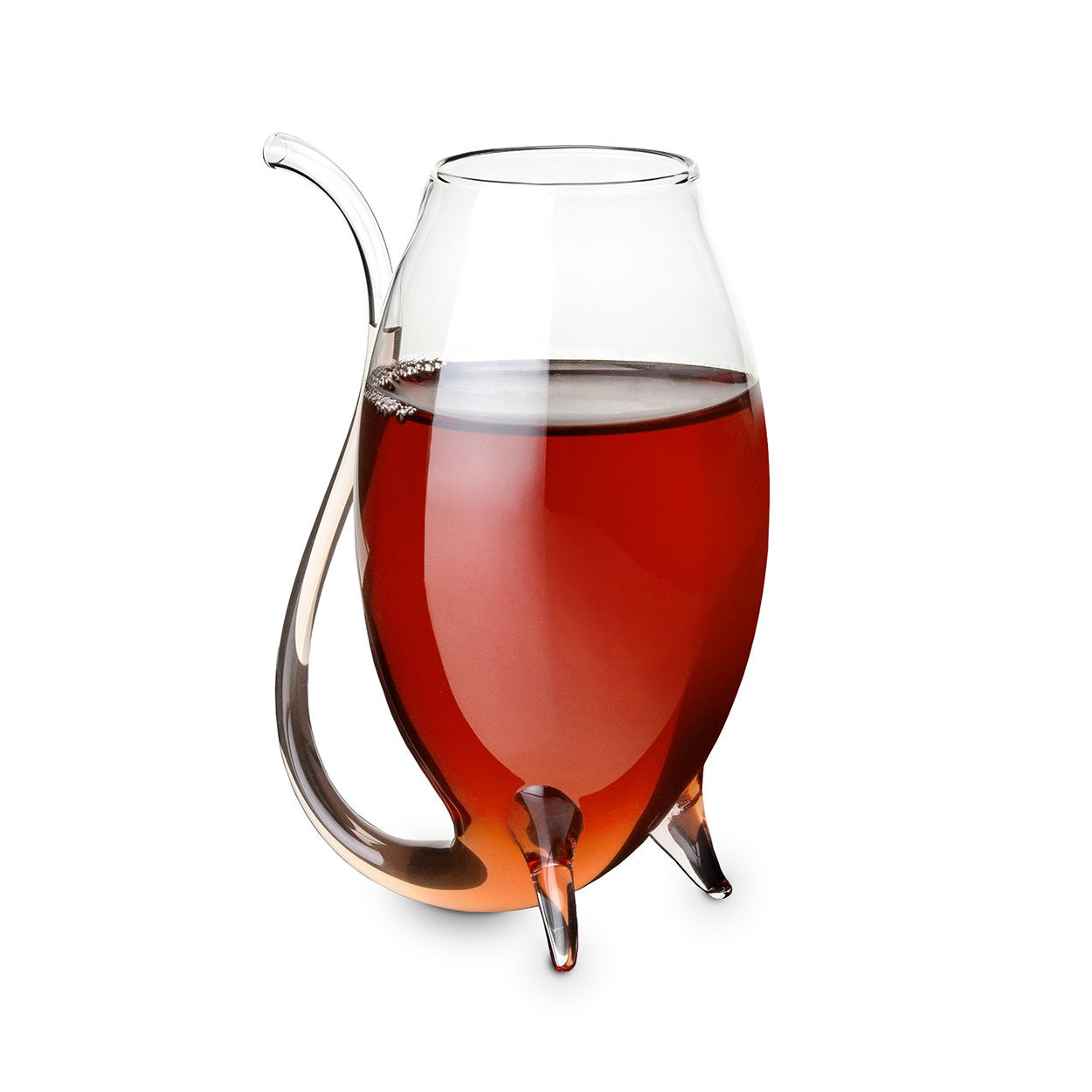 The concept of these glasses are great! But they are fragile.
Very cool. Definitely a conversation starter. But small and fragile.
Great product! Fragile...be careful!
Great product! Absolutely love these! Very delicate glass. My son already broke 2 by accident when I left them washed by the sink. Be careful and put them back in the Styrofoam in the box when not using.
Absolutely superb. A must for the end of any ...
Absolutely superb. A must for the end of any wine dinner party that includes a quality Port!
I absolutely love these port sippers
I absolutely love these port sippers! A few other reviewers complained that they were small; and YES - that is how they are supposed to be! They are adorable and never fail to get compliments when I serve port to visitors. They seem very durable as well; i have knocked a few over on the counter and they haven't broken. I highly recommend these for anyone who wants to drink port with class. :)
I absolutely love these port sippers
I absolutely love these port sippers! A few other reviewers complained that they were small; and YES - that is how they are supposed to be! They are adorable and never fail to get compliments when I serve port to visitors. They seem very durable as well; i have knocked a few over on the counter and they haven't broken. I highly recommend these for anyone who wants to drink port with class. :)